Alchemy Production Log Archive - October
oct.13 - First of all, a bit of good news: The Alchemy trailer was nominated for a Suzanne Award in character animation. Another animated piece of mine, "treefrog.nature", was also nominated for the best animation artwork award. Winners will be announced on saturday evening.

Here is the result of a little experimentation with the Octofrog rig. A "squash and stretch" bone was added to the head to add more facial expressiveness. Check out the test video: Octofrog squash and stretch test (DivX, 151KB)

Also, Tuesday night I came home to a nice suprise in my inbox. Spyder, a friend and bandmate of DedKnight whipped up some music after seeing the teaser. I really like the direction it is heading. Quite likely DedKnight and Spyder will be working on the final soundtrack together. Download the mp3 by Spyder (900 KB).
---
oct.7 - Trailer Released! Here is a little something to wet your appetite! Big thanks to Robert Chastain (aka DedKnight) for putting together the awesome soundtrack!

Download Trailer DivX 6, 9.32 MB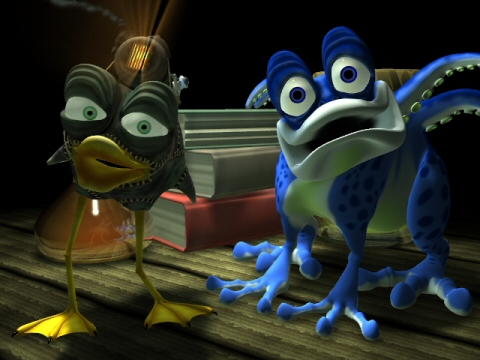 ---
oct.1 - Haven't posted an update in awhile. This is due to my preparations for the Blender Conference Art Festival, and because I have begun character animation with steamer (more on that in the coming days).

For now, here is a look at the beginnings of a diffuse map for Octofrog. The final texture map will most likely be somewhat desaturated compared to the bright colors shown here:



Here is another facial animation test with Octofrog: octofacetest.avi (DivX AVI, 140KB)



Back to Alchemy Production Log

Copyright 2005 Jason Pierce